Palm Beach Safety Alliance
ANNOUNCING OUR CHARTER MEETING SOON
LOCATION: SUGGESTIONS WELCOME

For Additional Information Email: info@safetyalliance.org

TRUSTEE MEMBERS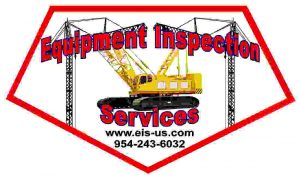 Todd Roper, CEO | Phone: 954.243.6032 | Email: todd.rtr.eis@gmail.com
Georgette Roper, President/CFO | Phone: 954-243-6032 | Email: eis.georjet@gmail.com
Address: 3682 Wickham Road, Suite B1, UPS Box 310, Melbourne, FL 32935
Website: www.eiscrane.com
Equipment Inspection Services goal is to educate crane operators, riggers, inspectors and businesses to reduce the risks inherent in any location where cranes are working. They wll improve the skills of those working in and around cranes, ensuring that cranes have been properly inspected and maintained, helping workers make rational decisions in a dangerous environment and assist businesses in creating safer worksites.


Vern Vokus, President/CEO | Phone: 561.585.9859 | Email: vvokus@lfhservices.com
Mirto Vigoa, CFO | Phone: 561.722.3392 | Email: mvigoa@lfhservices.com
Drew Lofton, Safety Director| Phone: 305-775-3243 | Email: dlofton@lfhservices.com
Address: 1551 Forum Place, Suite 400B, West Palm Beach, FL 33401 | Phone: 800.546.7402
Website: www.laborforhire.com
Providing safer workers, faster response time, and better service than their competitors is how they deliver world-class service. They know what it takes to attract and retain the most talented skilled employees available in the area. Their proprietary screening processes ensure only the most qualified, dependable people are staffed and dispatched to their clients' assignments. Labor for Hire employs some of the most cutting edge technology available in the industry to manage our team members efficiently and effectively. They can customize their screening process to fit your particular needs, including criminal background checks, drug screenings, and competency and aptitude tests.
John Segovia, Damage Prevention Liaison | Address: 11 Plantation Road, DeBary, FL 32713
Phone: 954-789-5624 | Email: John.Segovia@sunshine811.com
Website: www.sunshine811.com
Serving Counties: Indian River, St Lucie County, Martin, Okeechobee, Palm Beach, Broward, Miami-Dade, Monroe & Collier
Sunshine 811 puts you in touch with people who can locate buried utilities. Call 811 Before You Dig. This is a Free Service. Sunshine 811 is a not for profit corporation which began with the 1993 adoption of the "Underground Facility Damage Prevention and Safety Act," Chapter 556, Florida Statutes. Underground utility owners and operators are required by this law to be members of Sunshine 811. Member underground utility owners and operators fund its operation.

Palm Beach Safety Alliance Members

All County Paving
Alex Swithers, Operations Manager | Cell: 561-254-5453 | Email: aswithers@allcountypaving.com
CHARTER MEMBER


Commercial Vehicle Safety Associates of Florida Inc.
Steven Sherman, President | Cell: 561-756-6822 | Email: cvsaoffla@gmail.com
Retired DOT inspector offering Safety training and services
CHARTER MEMBER

Concentra Medical Centers
Claudia Zoete, Account Executive | Phone: 904-562-9589 | Email: claudia_zoete@concentra.com
CHARTER MEMBER
D.C. Crane Service, Inc.
Janet Connor, Vice President | Cell: 954-275-6967 | Email: dccranefla@aol.com
CHARTER MEMBER
GT Supplies
Ken Link, Safety & HR Director | Cell: 561-881-8101 | Email: ken@gtsupplies.com
CHARTER MEMBER
Hedrick Brothers Construction
Barbara Laing, Director, Human Resources & Safety | Cell: 561-662-8050 | Email: blaing@hedrickbrothers.com
CHARTER MEMBER
Jacob Erecting & Construction
Wilkie Perez, Safety Director | Cell: 305-450-5101 | Email: wperez@jacobcompanies.com
Johnson-Davis Inc.
Maggie Anaya, Safety Director | Phone: 561-815-4912 | Email: manaya@johnsondavis.com
CHARTER MEMBER
Underground utility construction
Kelly Tractor
Julio Rivas, Crane Sales Manager | Cell: 305-613-1571 | Email: julio_Rivas@kelleytractor.com
CHARTER MEMBER
NMS Management Services, Inc.
Howard Taule, CFO | Cell: 954-850-8868 | Email: Howard@nms123.com
Aileen Rosario, Business Development | Cell: 561-909-5833 | Email: Aileen@nms123.com
TPA Providing Drug Free Workplace Programs, Policy Development, Supervisory Training, MRO, SAP, EAP, Emergency 24/7 Collections Any Where at Any Time, Background Checks, Drug & Alcohol Testing, Fingerprinting, DOT Physicals and Compliance with all DOT modalities.
CHARTER MEMBER

Safety Products
Kathy Felsten, Construction Account Manager | Phone: 863-581-7048 | Email: kfelsten@spisafety.com
CHARTER MEMBER
Full service safety distributor, traffic control manufacturer and corporate apparel provider.
Seacoast Uniforms
Tyler Baker, Outside Sales / Territory Rep | Phone: 561-439-8005 | Email: tyler@seacoastuniforms.com
CHARTER MEMBER
Sims Crane & Equipment
JD Verschuere, Safety Associate | Phone: 813-294-4749 | Email: jd.verschuere@simscrane.com
CHARTER MEMBER
The largest crane company in Florida. In addition to cranes, Sims has material hoists, forklifts, aerial lifts and our heavy duty division for your largest logistics move.
Therma Seal Roof System
Rudy Chamorro, Safety Director | Cell: 305-502-2260 | Email: RChamorro@thermasealroofs.com
Commercial Roofing, Residential Roofing, Service Department
CHARTER MEMBER

Tradesmen International
Andy Halm, General Manager | Cell: 561-254-3577 | Email: ajhalm@yahoo.com
CHARTER MEMBER