Track Worker Training on all Projects and Workplaces for FREE
myComply offers a free training manager for a variety of businesses and industries, dealing primarily with construction. Stop manually tracking employee training and certifications. Ditch your spreadsheets and store employee training certifications in the cloud where they can always be easily accessed. With myComply, you'll enjoy:
Unlimited data is stored in the cloud
Notification emails when training is about to expire or has expired
Easy file sharing and collaboration on projects (subcontractor to contractor)
For General Contractors:
If you're a general contractor, you will find myComply useful to verify that all workers on their projects, including subcontractors, have adequate training and are compliant.
For Subcontractors, Engineering firms, Healthcare, etc:
Many types of businesses use myComply as a replacement to photocopies, file folders and spreadsheets for an overall better way of managing employee training. If you're in construction, you can also easily share training records for employees with general contractors for compliance verification purposes.
For Workers:
If you're a worker, you can access your own training through the myComply Worker App. So there's never a fear of being thrown off a site or disciplined for not having training certifications readily available.
This FREE application was designed for the construction industry, but can be programed to work for almost any company who tracks employee training!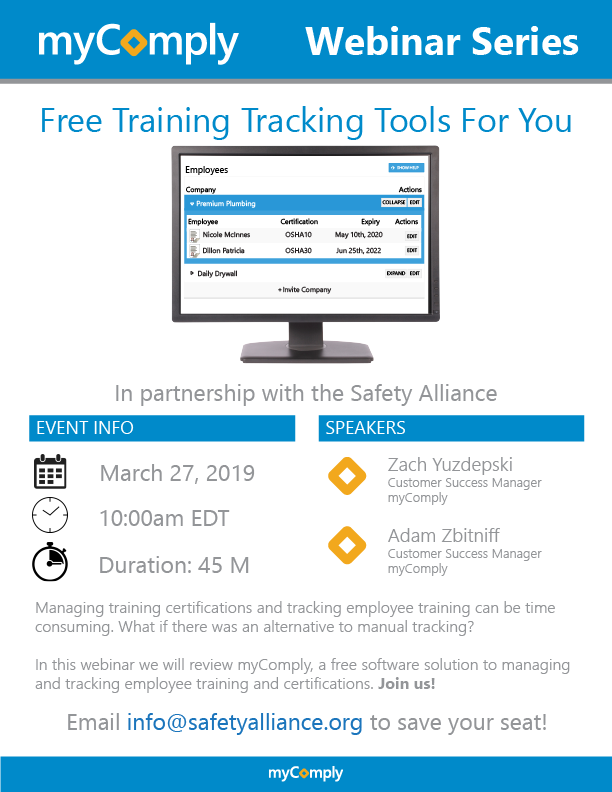 Join myComply, in Partnership with the Safety Alliance, for their Webinar Series: Free Training Tracking Tools For You. We are excited to announce our newest National Partnership with myComply. Managing employee training certifications and tracking employee training can be time consuming. What if there was a FREE alternative to manual tracking?
In this webinar we will review myComply, a FREE Software Solution to managing and tracking employee training and certifications. To register for our free webinar, please register below. (Participants will receive an email to attend the event on Zoom. We are limited to 100 participants, so please register early)